So for those of you unfamiliar with the typical comedy club performer hierarchy, it goes (from top to bottom) Headliner (the dude or chick you paid to see) Feature (the dude or chick who performs just before the Headliner and in some cases came with the Headliner) and the Host or the Emcee (the first person who hits the stage and, in most cases, has the least experience of the three.) For almost a year now, I've been actively begging comedy clubs for emcee work. Begging may seem like a harsh word to you civilians but relax. To a comedian, sending emails to club bookers as well as follow up emails upon follow up emails upon follow up emails is just apart of the game but it can feel like you're begging. Not a big deal, though.





But anyway…





So I'd been emceeing since about maybe December of last year. Well I got my first shot at featuring for an actual comedy club on July 31st of this year. Thirty minutes of me on stage telling jokes. It's kind of like a promotion from an emcee: A lot more work, not much more money. But that's not the important part. It's a step in the right direction and a better view of the goal. And at first I'm super excited. But then the anxiety sets in: "I've had great 5 to 15 minute sets but I've never done a CONTINUOUS 30 minutes of material before...WAIT...DO I EVEN HAVE 30 MINUTES OF GOOD MATERIAL???? WHAT IF I DON'T???? WHAT THE HELL HAVE I GOTTEN MYSELF INTO?!?!?!?! I DON'T WANNA DO THIS ANYMORE!!! From 100 to 0 that quick!





The good comedians have a pretty decent handle on their material. They can tell you how much time they have and of what topic. Example: "...I've got about 45 minutes of great material. I've got about a 10 minute bit about family, another 5 minutes about being a middle child, 15 minutes about work, 10 to 15 minutes about dating and I haven't even mentioned my 30 minutes of masturbation jokes!" Yeah, thats not me. I'm a prolific procrastinator. Yeah, I know I've got at least 30 minutes of material but I couldn't tell you how much of it is good enough to be considered for a 30 minute feature set. Not to mention my transitions are terrible at best but in most cases, they are non existent. Mike Paramore, a powerhouse of a comedian and one who travels all around the country for it, once told me that the mark of a professional comedian is good transitions. Making your time on stage feel like one big, related set to the audience as opposed to a collection of shorter stories/jokes...and I haven't worked on any of that.





Cut to the day of the first show, (oh yeah, I forgot to mention, there were a total of 3 shows that weekend...more anxiety!!!) I'm in the green room going through my jokes desperately trying to piece together 30 minutes that will bamboozle the audience in believing that I am an actual professional and not some open micer that stumbled in off the street. I'm pulling transitions out of thin air that are just making the fact that I don't have transitions more obvious. It's 10 minutes before show time and now I'm in full on internal panic mode. Like, I'm always stupid nervous before every show I do from open mics to paid gigs with big name headliners. But this was different. You know how you have those two voices in your head: "Oh my God, this is gonna be terrible!" "No no no calm down. You're funny. You'll do fine. Everything will be ok." Well I had the two voices but they were just arguing back and forth about how bad I was gonna do: "What if I do so bad, they don't even invite me back to the club!" "That's the least of your worries. What if you get so nervous you pass out on stage, hit your head, slip into a coma and die?!?!?" OH MY GOD THAT COULD TOTALLY HAPPEN!!





We're 13 minutes into the start of the show. The emcee is wrapping up his set and I'm up next. I'm questioning my entire career path because of a set I haven't even done yet. "This sucks! Why do I wanna be a comedian anyway?!?!? Why do I put myself through this?? I'm never doing this again. I'm gonna BS my way through this weekend and…"





"Please welcome to the stage, Bobbie Dodds!"





"Holy %#@$!!!!!!!!!!!!!!!!"





I get onstage. Out of habit I shake the emcee's hand. On my way to the mic stand I look out at the crowd, who is still applauding and flash my big goofy smile at them. They chuckle. I make my first joke about how there are little to no black people in the audience and how, apparently, the owner of the club, Mark, has tricked me into being the centerpiece of an auction. The crowd erupts with laughter. I laugh at them laughing at the joke. And in that moment, there is no place on earth I'd rather be than on that stage being judged by that group of strangers.







Powered by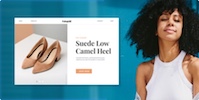 Create your own unique website with customizable templates.